Conservatory Cleaning
Conservatory cleaning/valeting, is one of MJ Cleaning's specialist services.
MJ Cleaning has been cleaning conservatories for over 12 years and have a huge base of satisfied customers who call on us every year to valet their conservatories safe in the knowledge they can trust us with their property.
Once your house has had our "facelift" clean, you will be over the moon with the kerbside appeal it will have.
Whether your UPVC has turned green, dull, grey or just needs a maintenance clean, it will get the same 5* service from us.
Under NO circumstances will we ever use a solvent on your UPVC. It will eventually discolour the surface which is irreversible. Nor do we use anything under pressure as in a pressure washer. The use of these can damage the seals on your frames, leaving an expensive repair.
We use a trade recommended cream cleaner, different grade applicators with tons of elbow grease!
What We Do
Cleaning a conservatory, is not a task to be taken lightly. Most conservatories are white so the dirt really does show up and the cleaning needs to be of the highest standard to avoid patches and streaks.
Firstly, the correct cleaning solutions have to be used. Customers often tell us they have "had a go" using Cif or bleach! This is not a good idea as products designed for household cleaning, bathrooms or kitchen cleaning can discolour your UPVC.
When cleaning the exterior UPVC, we use our specialist cream cleaner, with a wax additive which is applied by hand using different grade applicators.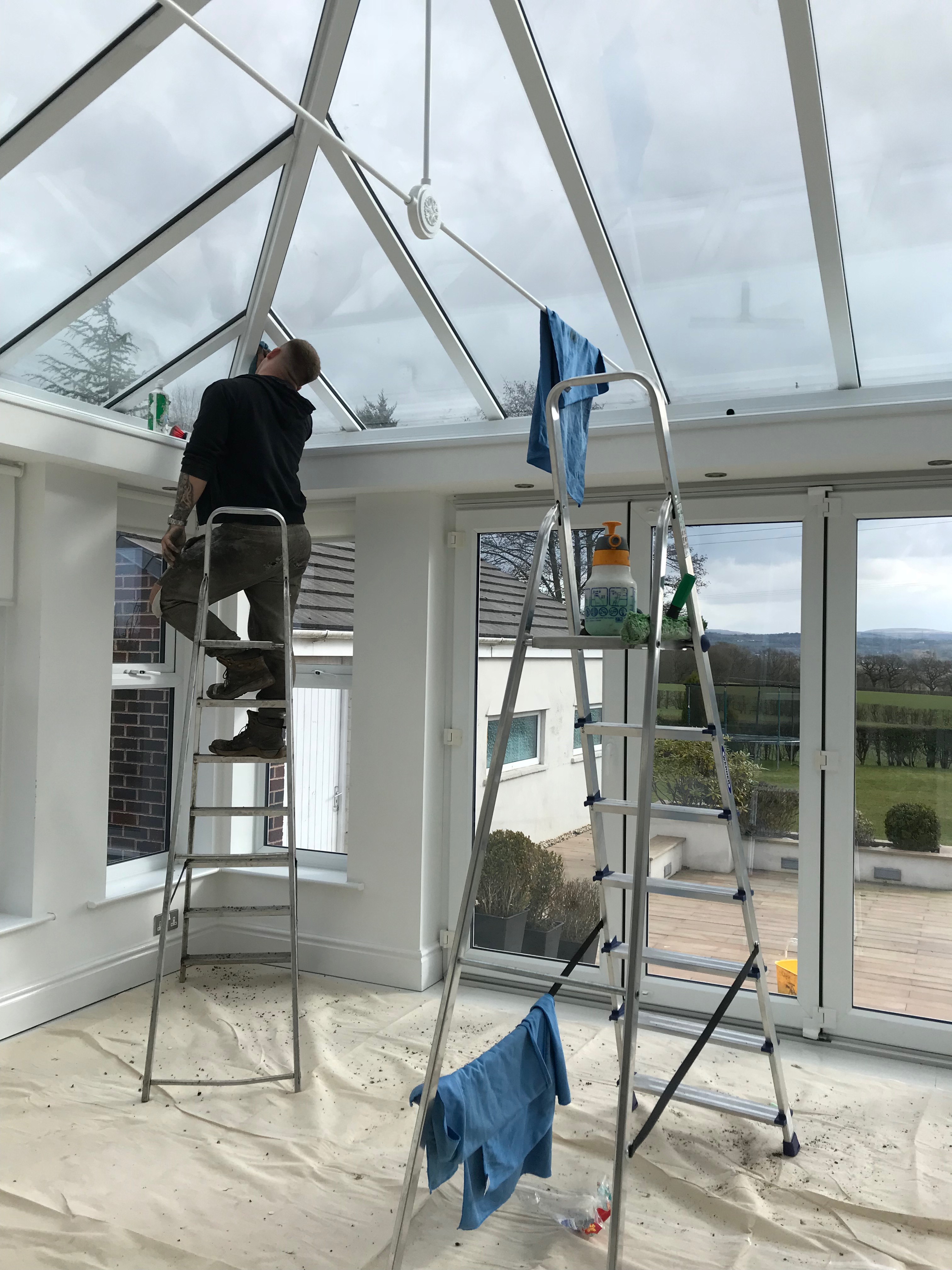 The UPVC roof bars and finials are again cleaned with our cream cleaner. If we notice any part of the roof or finials need any maintenance or repair, we will advise you.
Cleaning a glass roof is a totally different story. 99% of glass roofs will have the so called "Self Cleaning" glass. This is a Hydrophobic coating which is applied to the glass, which MUST be cleaned with care.
Too much friction on the surface when cleaning can affect the performance of the coating, so it is very important that when you employ a company to clean your glass roof, they know how too properly!
We clean the roofs to manufacturers guidelines, so you are safe in the knowledge, your conservatory is left in professional and capable hands.
Cleaning the interior or the roofs is quite a job in itself. The cleaning solution we use has an additive which helps to keep dust and air pollutants from sticking to the inside of the glass roof.
This is especially necessary, when there is access to the kitchen directly from the conservatory, as a lot of condensation from the food can make your roof look messy and dirty quite quickly!!
MJ Cleaning take pride in our attention to detail when valeting conservatories, and as mentioned before, only use the correct cleaning solutions recommended by the manufacturers.
What We Offer
Whether you require an external, internal or full valet, you will receive the same professional service.
Internal Cleaning:
UPVC central roof capping
All roof bars
All glass/polycarbonate panels
All side UPVC including Frames, doors, cappings, sills.
All window & door glass
External Cleaning:
All roof panels
Roof bars
Central capping
Roof finials
Gutters emptied
Undersides of gutters cleaned
All UPVC frames cleaner
All sills cleaned
All glass cleaned
Full Valet
A complete internal and external conservatory clean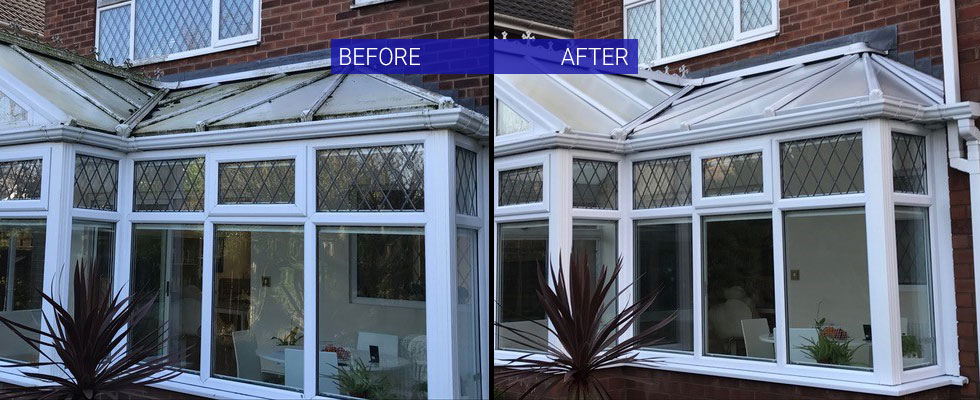 Get A Quote
MJ Cleaning does not have a sales department so when you call for a quote the person you speak to is probably the person who will do the clean, assuring you of one point of contact rather than an anonymous and evasive telesales department.
Most quotes can be done immediately without a site visit. Call us now for a quote or for further details about our service. We are more than happy to help.